Home
About CSA
PRESIDENT LETTER
MEETINGS
Meeting Calendar
Member News
Member Marketing
Membership
Board Members


CSA Board Members 2007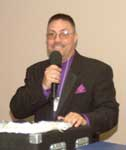 PRESIDENT
Mike Briggs, Good Vibrations DJs
702-438-8091 * Fax 702-437-8092
Cell: 702–335-6039
[email protected]
Mike Briggs has been entertaining crowds for over 19 years. He started off in Oxford, England at the Non-Commissioned Officers (NCO) Club for 2 1/2 years. Mike was then posted to Keesler Air Force Base and entertained crowds at both the NCO and Officers Club. In 1994 Mike received an assignment to Nellis Air Force Base.
He then broadened his horizon from the base to the private sector creating Good Vibrations mobile djs. Mike and his current staff of seven disc jockey's have been entertaining crowds in Las Vegas for over 10 years to include weddings, corporate events, picnics, birthday parties, and trade shows.
Mike is very involved in local organizations. In the National Association of Catering Executive (NACE) he was responsible for writing the chapters newsletter for 2.5 years. He is also currently the Treasurer of the Convention Services Association.
VICE PRESIDENT
Bride's Adviser – Michelle Parsons –
702-682-6303
Michelle Parsons has served on the Board of CSA of the last two years as Vice President and Program Chair. With over 25 years experience in the hospitality, wedding and special event business Michelle has been an asset to any business.   Michelle started out in Southern California where she began learning the business from the bottom up.  Moving to Las Vegas in 1990, Michelle has worked for several venues in Las Vegas helping clients bring their ideas to life.  Belonging to several professional hospitality organizations and active in the community Michelle stays up to date with current trends in addition to traditional customs in her field.
SECRETARY
Kim Farkas, Real Time Captioning
702-277-0106
[email protected]

Kimberly Farkas has been a Registered Professional Reporter for 19 years. She has worked around the country providing services in freelance, official, C.A.R.T. and open captioning reporting.  She has been in Las Vegas for three years. Since relocating to Vegas, she formed Real-Time Captioning Services of Nevada to introduce the latest trend of open captioning to conventions and meetings being held in Las Vegas.

"I want more organizations that already recognize Las Vegas as the premier destination city to host their event to also understand and appreciate the importance of making a record and having a transcript of the event for future use."
TREASURER
Sue Gestring – Bridal Spectacular Events, inc.
2320 Duneville Street, Las Vegas, NV 89146
702-368-0088 – Fax: 702-257-2395
[email protected]

Sue has been in the convention industry for the past 18 years. Most recently with Bridal Spectacular for last 5 years. Sue started with GES Expoistion Services as a sales secretary, working her way up to Account Manager.

Sue now assists in producing Nevada's largest and longest running bridal show – The Bridal Spectacular. As production manager for Bridal Spectacular, Sue is responsible for the many facets of producing the show, including daily sales, bookkeeping and show production.
SARGENT AT ARMS
Dan Price, Gallery West Portrait Creations
702-365-1110 * Fax 702-365-1890
[email protected]


Dan Price has served on the board of the Convention Services association here in Las Vegas, Nevada for over 6 years. Including 2 as president. He owes and operates one of Las Vegas's top photography studios, Gallery West Photography. He has been creating breathtaking and award wining Wedding, Event, Commercial and portrait creations for more than Thirty years.

His work has been seen on "Weddings of A Lifetime", Cox Cable, HBO, The Oprah Show, Today Show, Good Morning America, and UPN. His work has been published in Town & Country, Nevada Women, Las Vegas Magazine, Nevada Baby and People Magazine. He has worked for many Fortune 500 companies. Such as MGM/Mirage Corp, Sun Micro Systems, Universal Studio's, Kodak, Convexx just to name a few.



He donates much of his time and service to various Las Vegas charities. He belongs to many professional associations and is a national speaker for 5 photographic companies.
PAST PRESIDENT
Madison Womack, Life Like Botanicals
702-795-0010 * Fax 702-260-8888
[email protected]
---